Teddy Bear Drive
Teddy Bear Drive Link - http://Buffalofirefighters.org/teddybeardrive
For Roswell, Children's and Courage of Carly!
Please consider donating a newly tagged bear. Help bring a smile to a child's face this holiday season!
---

---
Awards Ball Photos
http://buffalofirefighters.org/ballphotos
---
Big Buck Contest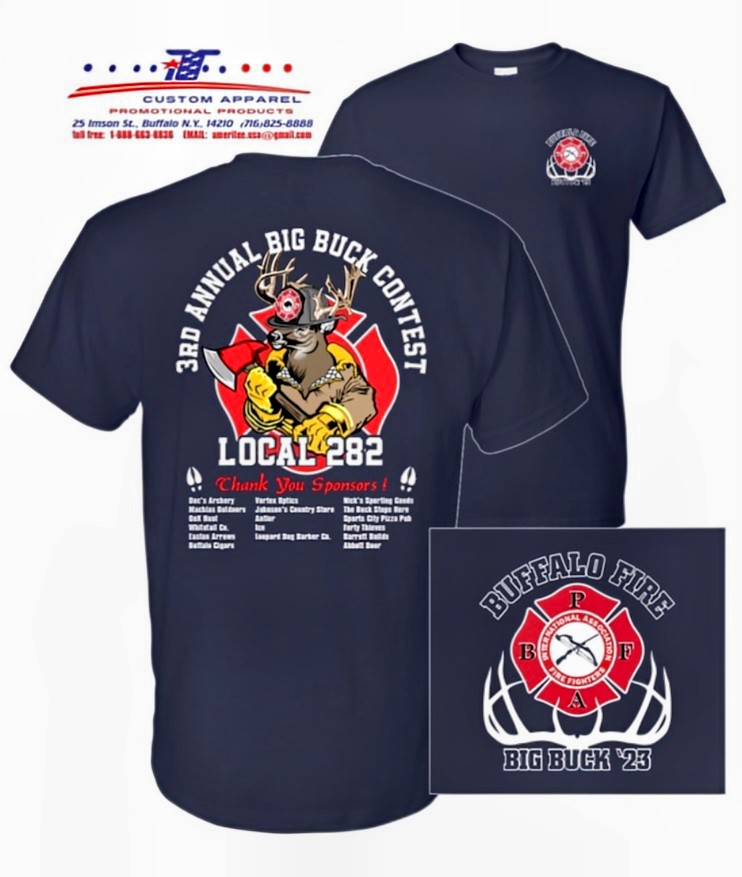 To place orders, please text or email Kevin Sikorski at (716)566-0938 or bfdbigbuck@gmail.com
SS - $20, LS - $25, Sweatshirt - $30, Hoodie - $35, Hockey Hoodie - $45
---
Wheelchair, Elevator, Walkers available
Contact Jay Jordan Sr. or Union Office
---
Local 282 Election Results
President - Winner - Chris Whelan (329)
Secretary Treasurer - Winner - Rick Panowicz (178), Donny Melendez (168)
4th District Trustee - Winner - Anthony Paulk (45), Sean Eagen (31), Luis Merrero (29), Jacob Kusmierski (26)
7th District Trustee - Winner - Otis Stephens (52)
2% - Winner - Andy Beale (87), Jim Wilkinson (78), Sam Smith (66), Ray Russell (43), Matt Hayes (41), Al LeClerc (16)
ALL 2% passed. Constitution and By-Laws Proposal passed
---
Holiday Valley Passes
http://buffalofirefighters.org/holidayvalley
Username - MWlocal282
Password - Local282
---
FF Jon Velez Shift Coverage
http://Buffalofirefighters.org/velez
---
Greater Buffalo Firefighters Pipes and Drums Band

The band is currently looking for members of the BFD to join the ranks of the band. HELP IS NEEDED! Keep the tradition alive. The band's main mission is to honor fallen heroes. Fire, Police, EMS and Military. No experience is needed with free lessons on all instruments. Practices are Tuesday nights at the Knights of Columbus (262 S. Legion) at 6:30pm. Any interested member, please reach out to Lt. Mike Kick (E25 4th) (716)860-7415



Order By: [Date] [Name] [Ascendant]

Yellow Dot
04/18/2023 - 0.43MB
Yellow Dot is a free program designed to help First Responders provide life-saving medical attention during that "golden hour" after a crash or other emergency. The Yellow Dot kit contains medical info card and decal on the side window of a vehicle.

Sabres Group Photo
02/26/2023 - 1.55MB

Sabres Group Photo 2
02/26/2023 - 0.49MB

Promotions/Retirees
02/07/2023 - 0.70MB
List of 2022 Promotions and Retirements